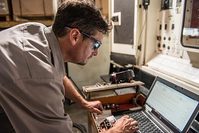 In the digital age, the world is transforming at a rapid pace, especially in industry with the deployment of the Industrial Internet of Things. That's the same for Caterpillar customers and the industries they serve. Caterpillar is merging deep domain expertise with digital technologies to create solutions that help customers improve their business operations and better manage risk.
Caterpillar is announcing Cat® Connect for Energy and Transportation. This is a portfolio of industry specific digital offerings of technologies and services geared towards helping Caterpillar customers be successful. These digital services expand the services offered to customers, enabling the ability to remotely monitor, locate and manage their critical assets from vessels to generator sets to natural gas compressor stations and beyond.
Caterpillar started on the journey of digitisation in the early 90s when the Internet changed the way Caterpillar employees started to imagine how they would be able to support their customers. Since then, we're using technology to predict and plan maintenance, optimise supply chain delivery of parts, dispatch service technicians, take equipment inventories, improve our product development velocity and more. With the worldwide Cat dealer network, Caterpillar is transforming the way to help customers succeed.
"Within the Energy and Transportation businesses, Caterpillar has been active in honing its capabilities, partnering with customers to refine technologies, and developing digital services to deliver real business results," says Terri Lewis, Energy & Transportation Director of Digital and Technology at Caterpillar. "Digital technologies are becoming commercially viable for our industries, and there is growing acceptance by users, so we're seeing an acceleration of deployment. It's no longer a question of why, or when, but more about here and now. Any businesses that do not adopt quickly will not be competitive for very long."
Caterpillar as a whole is supporting many customers over many applications:
Over 500,000 connected assets, the largest connected industrial fleet in the world.
Over 200,000 electronic inspections are performed annually through the Cat Inspect Mobile App.
Over 6 million fluid samples are analysed annually through the S·O·SSM Services program.
Ten industry specific apps and growing.
Caterpillar is also working to retrofit older machinery with sensors and analytics technology, with a whole line of AssetIQ™ kits to make older equipment smarter.
"Our success starts with the capabilities of our people and our dealers. Each of our industry groups has a dedicated digital organisation whose people combine deep expertise in the industry and in digital. We've complimented that foundational capability with investments," says Lewis. "We've invested in R&D, made acquisitions of best-in-class companies and strengthened our partnerships. There is a particular emphasis being given to data management and cyber security. Our Data Principles can be summarised as 'Your Data, Our Values'."
For Caterpillar, digital is a new way of delivering services, improving equipment management, increasing productivity, enabling improved safety and creating new ways to improve sustainability.