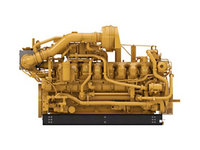 Caterpillar Oil & Gas has announced open order board for the Cat® G3516 TA gas engine. With a power rating of 1029 bkW (1380 bhp) at 1400 rpm, this new product continues to expand Caterpillar's gas compression product portfolio.
The G3516 TA is designed and built on the proven reliability and durability of the G3500 engine platform. This is a stoichiometric engine that provides high fuel efficiency and low emissions output with customer supplied three way catalyst. When configured with an appropriately sized customer supplied three-way catalyst, this product is capable of meeting 0.15 g/bhp-hr NOx emissions.
The G3516 TA utilises an engine management system which integrates speed control, air/fuel ratio control, and ignition/detonation controls into a complete engine management system. The G3516 TA is available now for order through the Cat® dealer network.