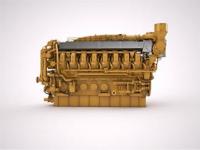 Caterpillar Oil & Gas has announced that a total of thirteen Cat® G3600 and G3500 gas engines have been selected by China's leading gas OEMs – Yantai Jereh Oilfield Services Group CO., Ltd and Beijing Jerrywon Energy Equipments CO., Ltd. These engines provide a combined power of 12,877 kW and will drive gas compressors in Yanchang, China. The Cat gas engines will be fully operational in October 2016.
"The Yanchang gas compression project is one of the largest, most significant projects for the China gas industry in recent years," Alan Zhang, Caterpillar Oil & Gas Asia Pacific – China sales manager notes. "This is a landmark project for both Caterpillar and our dealers who collaborated on this project, Lei Shing Hong Machinery and WesTrac China. We look forward to more opportunities to power the China gas compression market with Cat solutions."
Designed specifically to meet the stringent demands of gas compression applications, the versatile Cat medium and high speed gas engines demonstrate why they are the best selling engines in their class – and how they live up to the Caterpillar name. Every Cat gas engine is full-load tested at the factory to ensure proper engine performance, has the capability to burn a wide spectrum of gaseous fuels and is engineered using the robust Cat diesel frame as its foundation. Cat engines have over 90 years of industry-leading innovation built in. In addition, the Cat G3516 and G3600 gas engines selected for this project operate on lean burn engine technology. The lean combustion helps reduce combustion temperatures and provides low engine out NOx emissions, without the need for aftertreatment. The result is longer component life, excellent fuel consumption and lower installation and operation costs.