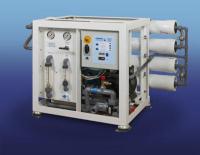 Cathelco Seafresh, the UK specialists in reverse osmosis desalinators, achieved a dramatic rise in sales during 2013 when a total of 61 units were sold to customers around the world.
This is more than double the output for 2010, the year in which Seafresh Desalinators were acquired by Cathelco Ltd who manufacture a range of equipment for the shipping market.
"Cathelco have a well established global agent network and this has been a major factor in selling our desalinators in markets as far apart as Ireland, Singapore, Dubai, China and the USA," said Chris Bell, general manager of Cathelco Seafresh.
Since the takeover, the company have re-designed and extended their range of 'Ton' desalinators which originally had the capacity to produce between 10 and 25 cubic of freshwater per day, although higher outputs could be achieved by using multiple units. The output range is now from 8 tonnes to 35 tonnes and will soon be extended to 50 tonnes.