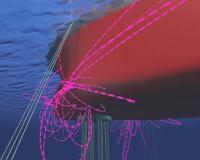 Cathelco has won an order to supply an impressed current cathodic protection (ICCP) system for the Armada Ali which will safeguard the hull of the vessel against corrosion.
The Armada Ali is being converted into an FPSO from the VLCC Osprey, a 301,963 dwt VLCC at the Keppel yard in Singapore. The conversion project is being managed by Bumi Armada Berhad, the Malaysian offshore oil service company who have been contracted for the charter, operation and maintenance of the vessel by Eni Angola S.p.A.
This is the sixth time that Cathelco have supplied equipment for Bumi Armada FPSO conversions, two of the most recent being the Armada Sterling and Armada Claire.
As the Armada Ali has a length of 335 metres it will be installed with a fore and aft ICCP system. Both of the 500 amp systems will consist of a control panel wired to an arrangement of two Cathelco C-Max disc anodes and reference electrodes mounted port and starboard.