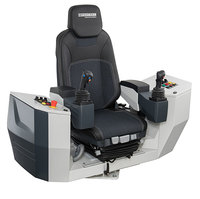 Cavotec has announced the launch of its latest module-based Gessmann crane control unit, the KST 30. Offering the very best in ergonomic comfort and technological innovations, the KST 30 sets new standards in safety, flexibility, and operational efficiency.
The KST 30 is an ergonomically designed swivel crane control chair available in four standard units to ensure your operators get the chair and control system ideally suited to their needs. These four areas are:
Driver seat-mounted inner consoles that can be height-adjusted to match a wide variety of joystick sizes; hydraulic vibration system, including weight adjustment.
Consoles can be equipped with custom command and indicator equipment.
Outer consoles available in three standard sizes; custom options also available.
Command and indicator devices can be added according to customer requirements.