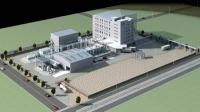 CB&I and Clariant's new Ziegler-Natta (ZN) polypropylene catalyst production plant in Louisville, Kentucky, is on schedule to begin production in 2015.
The plant is part of a long-term strategic partnership between Clariant's Catalysts business unit and CB&I's Lummus Novolen Technology business. Based at Clariant's largest US production hub, the state-of-the-art facility will combine innovative catalysts - jointly developed by both companies with high-capacity output to serve the fast growing polypropylene industry.
The partnership strengthens both companies' position in polypropylene catalyst and technology by leveraging Clariant's catalyst research and development and production know-how together with CB&I's vast knowledge in catalyst, process design and licensing of polypropylene plants.