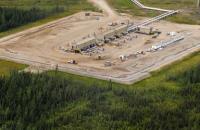 Cenovus Energy Inc. has received approval from the Alberta Energy Regulator (AER) for its 100%-owned Grand Rapids thermal oil sands project.
The proposed project is located approximately 300 kilometres north of Edmonton, within the company's Greater Pelican Region in northern Alberta.
Grand Rapids is expected to have production capacity of 180,000 barrels per day (bbls/d) and be developed in multiple phases. The project is anticipated to have a life of 40 years.