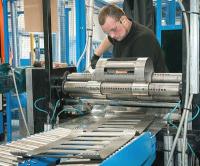 Centek Group has enjoyed a storming year in West Texas with shipments of more than 52,000 centralizers being run in 175 Permian Basin wells. This represents a 64 percent increase in sales over the previous fiscal year.
The Permian Basin wells are almost all unconventional oil wells. Centek's S2 centralizer, with its combination of strength, flexibility and low friction, has proved extremely successful, predominately on the production string in both the lateral section and the build section, with some lateral sections being around 10,000 feet in length.
"We have used Centek since we started drilling horizontal wells, and we see these centralizers as a key factor in our success in drilling 8,500-10,000ft laterals with zero problems," said one West Texas operator. "We recently ran 225 Centek S2 centralizers into a well and it was the easiest run to TD that we have seen in this field."
Failures in cement integrity in the frack zones and around the intermediate shoe are a principle cause of well leakage after fracking, leading to live annulus problems and a possible reduction in production. Texas has some of the toughest regulations for well integrity in the US. Centek centralizers provide the excellent centralization and fluid circulation required to give a robust cement sheath, as required by the Texas RRC, which ensures the integrity, production and overall life of the well.