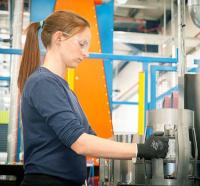 UK based Centek Group is poised to become the largest oil casing centralizer manufacturer in the world, following the opening of its new $13M factory which will treble its UK production capacity.
The expanded works in Newton Abbot, Devon, occupies 75,000 sq ft, which with the US factory (opened in 2012) gives a total of 147,000 sq ft of plant space. In the UK there are now four laser cutting production lines, two powder coating machines, and one heat treatment plant with a second due to be in full operation by December.
The US Oklahoma facility brings to bear two additional production lines and one heat treatment plant. This gives the Centek Group the capability to turnover $220M annually.