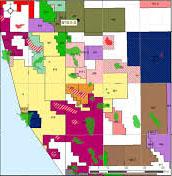 Centrica Resources Norge AS, operator of production licence 405, is in the process of concluding the drilling of exploration wells 8/10-5 S and 8/10-5 A. The wells are dry.
The wells were drilled approx. 13 kilometres southeast of the Ula field, in the southern sector of the North Sea.
The purpose of the wells was to prove petroleum in Upper Jurassic reservoir rocks (the Ula formation) in a segment east of the 8/10-4 S oil discovery (Butch) encountered in the same production licence in 2011. Wells 8/10-5 S and 8/10-5 A encountered 45 metres and 50 metres, respectively, of sandstone in the Ula formation of good reservoir quality.
Extensive data collection and sampling were carried out, which will be used in the further development of the nearby 8/10-4 S discovery.