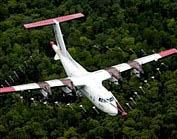 CGG has recently completed a large FALCON Airborne Gravity Gradiometer (AGG) survey for Buru Energy Limited in the Canning Superbasin, Western Australia.
Acquisition of the 43,951 line km survey at 1,000 m line spacing began at the end of September and was completed at the end of November. CGG won this survey as a follow-up to the highly successful Yakka Munga survey it conducted for Buru Energy last year over their Ungani discovery well in an adjacent block within the Canning Basin.
Buru Energy decided to fly AGG over more of their expanding acreage in the Canning, as it provided a rapid and effective evaluation of remote areas, where ground access was difficult. Interpreted AGG data provided early understanding of geological structure, enabling new seismic acquisition to be more strategically located for their ongoing exploration program.