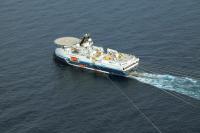 Fully integrated geoscience company, CGG, has extended its contract with Marlink for customised Sealink VSAT services for a further five years. As part of the agreement, Marlink will continue to deliver dual C/Ku-band connectivity to support efficient operations on CGG's high-end survey vessels, mainly operating in the Gulf of Mexico, the North Sea and South East Asia.
CGG offers a complete range of marine acquisition services, providing high-end broadband solutions, state-of-the-art narrow-, wide- and full-azimuth towed-streamer exploration, development and 4D seismic surveys and complementary non-seismic techniques such as gravity and magnetic surveys. In partnership with its seabed joint venture, CGG also provides hybrid node-streamer surveys and seamless acquisition from deep to shallow water.
Marlink connects CGG vessels to its recently upgraded iDirect VSAT network platform including X7 modems, further enabling the company to utilise its connectivity for smart operations, leading to reduced operational costs whilst increasing crew and client satisfaction and supporting compliance for safety processes and regulations.