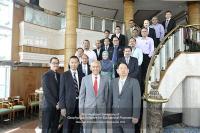 CGG GeoSoftware has made a significant software donation to Universiti Teknologi PETRONAS (UTP) as part of its commitment to help train the next generation of geoscience graduates joining the energy industry. Following an initial software donation in 2012, CGG has made a second larger donation to UTP, this time of both its Hampson-Russell and Jason reservoir characterization suites.
As a sign of its appreciation of this historic donation, UTP held an official ceremony for the handover of the donation on September 9 attended by representatives from PETRONAS, CGG and UTP.
As an internationally renowned university wholly owned by PETRONAS, the national oil company of Malaysia, UTP places strong emphasis on maintaining excellence in research and development to bring innovation and value to the energy sector. Students in its Geosciences and Petroleum Department and also in its Centre of Excellence in Subsurface Seismic Imaging & Hydrocarbon Prediction Department will be able to use the software to become more proficient at oilfield reservoir assessment and advanced analyses.