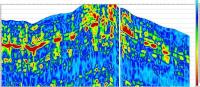 CGG GeoSoftware has launched Jason 9.5, the latest version of its advanced reservoir characterisation software that adds many new capabilities including depth inversion, broadband reservoir characterisation and anisotropic inversion. These additions build on and improve Jason's unique technology that reveals essential reservoir facies and rock property information required for tough drilling and reservoir development decisions.
A new key product in version 9.5 is Depth Inversion which allows the direct use of depth seismic in well tie, wavelet estimation, and inversion processes to deliver results calibrated to well depths. The unique technology in Depth Inversion and in the Jason Workbench combine to allow inversion of depth volumes to actually be performed in time using Jason's industry-leading RockTrace technology, for a scientifically robust solution to depth inversion.
New broadband seismic reservoir characterisation workflows take advantage of the latest broadband seismic data available to deliver improved identification of reservoir facies and rock properties. In addition, Jason 9.5 helps users gain the most value from their multicomponent seismic data through probabilistic estimates and advanced geostatistical inversion for fine details. Another innovative Jason product, Anisotropic Inversion, has more constraint options added for improved anisotropy property estimates calibrated to well control, crucial for model accuracy, effective well design and optimum production.
Kamal al-Yahya, Senior Vice President, CGG GeoSoftware, says, "Innovative multi-disciplinary geoscience software are needed more than ever in today's challenging climate to help E&P companies extract maximum value from their existing workflows, environments and investments. Jason 9.5 offers specific new capabilities that address our clients' needs as well as many new usability updates to enhance the user experience and reduce mouse button clicks. This release offers leading-edge reservoir characterisation technologies to optimise well productivity, field development and reservoir management."