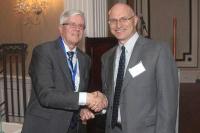 Dan Hampson and Brian Russell of CGG have been awarded Honorary Membership of the Geophysical Society of Houston (GSH) during its 2014 Annual Honors and Awards Banquet.
Honorary Membership of the GSH is conferred in recognition of a distinguished contribution to the geophysical profession. It is the highest award bestowed by the GSH and Brian and Dan were the only recipients this year.
Brian and Dan founded Hampson-Russell Software in 1987. When the company was acquired by Veritas DGC in 2002 and then by CGG in 2007, the founders continued their mission to deliver best-in-class seismic reservoir characterization software and services to the worldwide oil and gas industry.