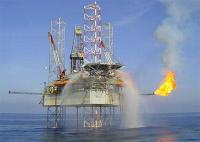 CGX Energy Inc. provide an update on its next exploration well on the Company's 100% owned and operated Corentyne Block, offshore Guyana. The HAKURYU-12 jack-up rig from Japan Drilling Co., which will be used to drill CGX Energy's exploration well, is on schedule for completion by January, 2015. An announcement on mobilization and spud timing will be announced in a separate news release.
The Company, with the assistance of the technical team at Pacific Rubiales Energy Corp., has defined the well location and is in the process of planning its drilling activities for 2015.
Dewi Jones, Chief Executive Officer of the Company, commented: "The Company will be drilling the Kabukalli prospect offshore Guyana. The Kabukalli-1 well will test the Upper Cretaceous geologic objectives to an anticipated total depth of 4,502 metres and is anticipated to take approximately 73 days to drill (including contingency). This drilling emphasizes CGX Energy's continued efforts in evaluating the petroleum potential of this highly prospective basin."