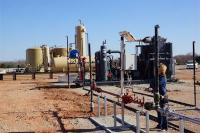 Magnolia Petroleum says that Dr John Cubitt has resigned as Chairman and from the Board of the Company by mutual consent, with immediate effect.
Gavin Burnell, an existing non-executive Director, has been appointed Chairman of the Board.
Magnolia COO, Rita Whittington said, "We are grateful to Dr Cubitt for his contribution to the Company since 2009 and extend our best wishes to him for the future."