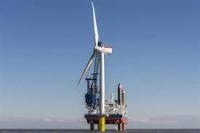 The Nomination Committee of DONG Energy A/S has nominated Lene Skole and Lynda Armstrong as new members to DONG Energy's Board of Directors.
Lene Skole is also nominated as the new Deputy Chair. The nomination of Lene Skole as new Deputy Chair is a natural consequence of the current Deputy Chair, Jørn P. Jensen, who will step down from his position and withdraw from the Board of Directors at the annual general meeting on 4 March.
Lene Skole has extensive management experience within the financial area, among other things as CFO in Coloplast and most recently as CEO of the Lundbeck Foundation and member of the Boards of Directors of Tryg Forsikring and ALK-Abelló.
For several years, Lynda Armstrong has had leading positions at Royal Dutch Shell plc and today, Armstrong is an independent consultant and member of the Boards of Directors of KAZ Minerals Plc and the Supervisory Board of SBM Offshore N.V as well as Chair of the British Safety Council.