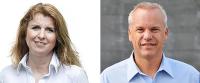 Jannicke Nilsson has been appointed executive vice president and chief operating officer (COO) in Statoil ASA. She takes over the role from Anders Opedal, who will lead the development of Statoil's growing and increasingly important operations in Brazil as new country manager.
Jannicke Nilsson will assume her new responsibilities on 1. December this year, Anders Opedal will assume his responsibilities 15 January 2017.
Nilsson will report to President and CEO Eldar Sætre with her office location being Stavanger, while Opedal will report to Lars Christian Bacher, executive vice president Development & Production International. His office location will be Rio de Janeiro.
Current Brazil country manager Pål Eitrheim is appointed new chief procurement officer. He will be reporting to Margareth Øvrum, executive vice president TPD, and located out of Stavanger. Its not finally decided when Eitrheim will assume his new responsibilities.
"It's a pleasure to welcome Jannicke Nilsson as a new member of the corporate executive committee. She is a strong replacement for Anders Opedal, who I have asked to take one of the key roles in Statoil going forward, to lead the further development of our Brazil-operations," says Statoil CEO and president Eldar Sætre.
"Anders Opedal was appointed our first COO in 2015, and has been a driving force in our effort to improve safety and efficiency in our operations. He has been instrumental in establishing the COO function in the organisation, and is now ready to take on a new challenge by leading our Brazil-operations. After the Carcara-acquisition Brazil will be a very important future growth area for Statoil," says Sætre.
"Jannicke Nilsson has been a part of the COO management committee reporting to Opedal since the COO function was established. She has a strong background with experience from several senior positions across the organisation, and will be able to immediately continue the work of the COO-organisation," Eldar Sætre says.
Jannicke Nilsson is currently senior vice president for COO operational performance projects, a role she has held since 1 August 2015. She joined the company in 1999 and has held a range of engineering, research, operational and leadership roles.
Jannicke Nilsson started initially as a project engineer, then project leader, production engineer, production supervisor and platform manager at Oseberg South. She has been manager of Oseberg C and vice president for modification and project portfolio Bergen in DPN, as well as senior vice president for operations North Sea and for operations North Sea west in DPN.
She came from the position as senior vice president for TPD TEX (technical excellence) when she in august 2013 was appointed programme leader for STEP (Statoil technical efficiency programme).
Nilsson holds a bachelor of science in automation and a master of science in cybernetics/process automation from the University of Stavanger.
Anders Opedal is currently executive vice president and chief operating officer, a role he has held since 1 April 2015. He joined Statoil in 1997 as a petroleum engineer in the Statfjord operations. He has held a variety of roles since then in drilling and well, procurement and projects.
In 2010 he was appointed senior vice president of projects in TPD, responsible for Statoil's approximately NOK 300 billion project portfolio. Prior to joining Statoil, Opedal worked in Schlumberger and Baker Hughes. He has an MBA from Heriot-Watt University and an engineering degree from NTH.