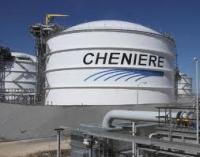 Cheniere Energy, Inc. announced two significant liquefied natural gas project developments that, if completed, are projected to add up to approximately 19 million tonnes per annum of incremental LNG production capacity and would bring Cheniere's aggregate nominal LNG production capacity to approximately 60 mtpa by 2025.
Cheniere is developing approximately 9 mtpa of incremental LNG production capacity through the addition of two liquefaction trains adjacent to the existing site of the Corpus Christi liquefaction project. Expected nominal LNG production capacity of each of these liquefaction trains is approximately 4.5 mtpa, which would increase the expected aggregate nominal LNG production capacity at the CCL Project to approximately 22.5 mtpa. Cheniere initiated the regulatory process in June 2015 by filing the National Environmental Policy Act pre-filing request with the FERC and the FTA and non-FTA approval requests with the DOE. Regulatory approvals would be expected in 2017.
In addition, Cheniere has agreed in principle to partner with Parallax Enterprises, LLC, to develop up to 10 mtpa of LNG production capacity through Parallax's two mid-scale projects, Live Oak LNG and Louisiana LNG. Live Oak is located on the Calcasieu Ship Channel in southwestern Louisiana, and LLNG is located on the Mississippi River approximately 40 miles from New Orleans. Both projects are expected to have two liquefaction trains designed for LNG production capacity of approximately 2.5 mtpa each, utilizing liquefaction process technology and modular equipment developed by Chart Industries, Inc. The facilities are being engineered by Bechtel Oil, Gas, & Chemicals, Inc.