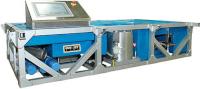 Chukar Waterjet, Inc. has announced that it has successfully delivered its first SUB-JET™ 3000 ROV-deployable waterjet system to a major offshore oil and gas contractor.
"With this important delivery, Chukar Waterjet is partnered with one of the premier offshore oil and gas contractors in the world," says Bruce Kivisto, Chukar Waterjet general manager. "This contract will allow Chukar Waterjet to make major inroads into the offshore industry by demonstrating the effectiveness of Chukar's ultra-high pressure waterjet equipment for deepwater subsea waterjet cutting and ultra-high pressure (UHP) blasting operations."
Chukar is building out its inventory of SUB-JET systems and is in a good position to offer them for prompt delivery in 2016, Kivisto notes.
Chukar's SUB-JET 3000 brings the power and versatility of ultra-high pressure (UHP) waterjet cutting and blasting to the deepwater subsea environment. Operable to 3000 metres, SUB-JET 3000 cuts steel as thick as 250 mm and quickly blasts away coatings, corrosion and marine growth at pressures up to 3900 bar. The SUB-JET 3000 is deployed as an underslung equipment skid on a work class ROV and is powered from the ROV's auxiliary power.
The 100-hp SUB-JET 3000 produces 7.5 litres per minute of 3900 bar ultra-high pressure water for cutting and blasting. It carries 35 litres of abrasive, providing 30 to 90 minutes of cutting time. The ROV provides hydraulic oil to power the waterjet intensifiers and operate attached tooling, 24 Vdc (300 watts) for control power, and a fibre-optic data link to the topside controller. The system requires between 150 and 200 litres per minute of hydraulic oil to run at full capacity but can be operated at lower output if the auxiliary oil is not available from any given ROV. Cutting and coating removal are still effective at lower UHP output, only at slower throughput rates. The system weighs about 500 kg on the deck and is neutrally buoyant with 35 litres of abrasive.