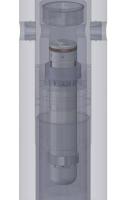 Churchill Drilling Tools has announced the deployment of its dart activated DAV MX™ circulating valve at a record measured depth of 26,012ft.
Churchill's DAV MX™ and its Smart Dart™ activation technology were deployed at the record depth in a development well off Louisiana in the Gulf of Mexico. Enabling rapid and assured reamer bypass in a sidetrack operation, the application exploited the deepwater capability of the Smart Dart™ to withstand both rapid delivery speeds and high temperature and pressure variations.
Using its multi-cycle capability, bypass deactivation was equally simple and assured as the assembly was pulled from hole. This proved the capability of the system to give the operator total control over both the fluid path directions and the drilling equipment whilst maintaining the well control flow-rate objectives set out in the program.