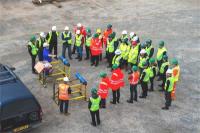 More than 30 engineers from the world's major operators and service companies attended the first full rig test of Churchill Drilling Tools' HyPR™ HoleSaver™ - the world's first full-strength disconnect sub.
Superintendents, senior drilling engineers and fishing specialists were keen to discover if a full strength sub could be easily severed and whether the sub was actually full strength compliant.
The answer to both questions was a definite 'yes', with the full strength sub cut in just 112 minutes.
The HyPR™ HoleSaver™ is the latest ground-breaking, dart activated technology to be developed and delivered by Churchill Drilling Tools.
It offers exceptional strength both in tension and compression with absolutely no pre-installed weak points. When stuck pipe occurs, the tool is targeted by pumping down a HyPR™ dart which directs a precise and powerful milling jet at velocities of over 300 feet per second to make the cut.