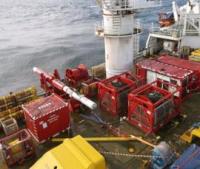 Conductor Installation Services Ltd (CIS), an Acteon company that provides hammer services to install conductors and drive piles, has successfully completed its second subsea piling campaign for Technip in Norway.
CIS used its remotely operated Subsea Piling System, which makes it possible to drive piles as large as 36-inches in diameter, in water depths to 300 metres. In August, the piles were driven remotely to secure the subsea Boa Extension Manifold, which makes up an integral part of the Alvheim development, approximately 225 km west of Stavanger.
The development, which transports oil to the UK Scottish Area Gas Evacuation System, is designed to increase oil recovery by enhancing current production rates via three new subsea well step-outs at East Kameleon, Kneler A and Boa.