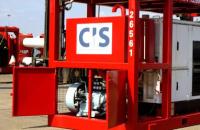 Conductor Installation Services Ltd (CIS), an Acteon company that provides hammer services to install conductors and drive piles, has been awarded a contract to drive piles to permanently stabilise two subsea structures and to initiate three rigid pipelines being installed by Technip in Norway. The contract is a breakthrough for CIS, as it is the first to utilise the new CIS Subsea Piling System, and the first ever operation for CIS in Norway.
Unveiled in November 2013, the remotely-operated Subsea Piling System allows CIS to drive piles as large as 36-inches in diameter, in water depths to 300 metres.
The contract requires CIS to drive three 30-inch Initiation anchor piles, four 30-inch manifold anchor piles and four 24-inch pipe line end manifold (PLEM) anchor piles on the Bøyla Development project in Norwegian waters. The job is scheduled to take place in mid- 2014.