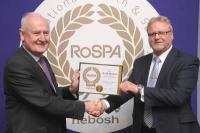 Conductor Installation Services Ltd (CIS), an Acteon company that provides hammer services to install conductors and drive piles, has been awarded its second consecutive Gold Medal for Occupational Health and Safety from the UK's Royal Society for the Prevention of Accidents (RoSPA).
10th Anniversary = 10 Years Without A Lost-time Incident
CIS completed its 10th consecutive year of operation without an accident or a Lost Time Incident (LTI). In recognition of this accomplishment, RoSPA awarded CIS with its second Gold Medal. There is a certain synchronicity, that as CIS celebrates its 10th anniversary, it achieves 10 years without an LTI.
"We're very proud to have achieved this goal, which has resulted in a second Gold Medal for CIS. I am grateful to our team for its dedication to working together safely," said Andy Penman, Group Managing Director of the CIS Group. "Nothing is more important than safety at CIS, and every person in the company has the responsibility to ensure that the workplace is safe, and to perform his or her job safely, each and every time."