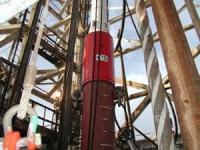 Conductor Installation Services (CIS), an Acteon company that provides hammer services to install conductors and drive piles, has successfully installed directional conductors to form the basis of two new production wells as part of a major project offshore Australia.
Although CIS has installed directional conductors for numerous operators around the world, the recent operation was the first time that the company had installed them for this particular operator. "Because the project plays such a vital role in the supply of gas to Australians, we are acutely aware of how important it is that each and every phase of construction is completed safely, with attention to detail and sensitivity to the environment," said Andy Penman, Group Managing Director of CIS. "We are extremely pleased that this inaugural operation for this operator was a success."
To ensure that the operation would be executed successfully, it was critical that the conductors be properly positioned before being driven into the seabed. CIS engineers carefully assessed the angles required so that the conductors would be appropriately offset. The company also produced three customised deviated drive shoes necessary to drive the conductors: two for the wells and one as a back-up. The directional drive shoes were then welded onto the conductor pup joints at the CIS Asia Pacific Region base in Singapore. Once this was completed, they were transported to Australia.