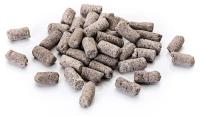 Clariant, provider of specialty chemicals, has announced the launch of PolyMax 850, a high-performance, sustainable catalyst for petroleum refineries. The new phosphoric acid catalyst increases polygasoline, nonene and tetramer yields at lower operating temperatures, thus reducing costs and boosting productivity. Compared to previous generations of the PolyMax series, the new catalyst offers an even longer service life, helping to minimise waste in the fuel upgrading process.
Phosphoric acid catalysts are used to convert olefins – produced during cracking processes in oil refineries – to gasoline, solvents or starting materials for plasticisers. Moreover, the catalyst allows operation at significantly lower temperatures, thus saving considerable energy. Besides improving quality and cost efficiency, PolyMax 850 also supports sustainable fuel production. Not only does it reduce demand on raw materials, but also significantly decreases greenhouse gas emissions. Preliminary calculations estimate an annual CO2 reduction of around 100,000 tons compared to other state-of-the-art catalysts.
From start to finish, PolyMax 850 is designed to minimise environmental impact. The catalyst is produced from diatomaceous earth and phosphoric acid in a process that does not generate wastewater. After a long service life at the refinery, PolyMax 850 can be completely recycled into fertilisers or other useful phosphorous compounds. Reutilisation already occurs with almost 65% of all spent PolyMax catalysts, helping to reduce the consumption of phosphate rock in the production of phosphorus. Clariant actively works with international partners to further increase recycling rates with the aim of achieving complete lifecycle management for PolyMax series catalysts.
Stefan Heuser, Senior Vice President & General Manager Business Unit Catalysts at Clariant, states, "Due to fluctuations in crude oil prices, the fuel industry is seeking more effective and efficient ways to produce high quality fuels. PolyMax 850 presents a powerful solution. It increases yields and quality, while reducing emissions and waste."
In addition to supplying leading catalyst products, Clariant's Catalysts business unit offers customers comprehensive service regarding the use of its catalysts.
Dedicated support begins with providing process information during the initial stages of plant design and construction, includes start-up assistance when the plant is placed on stream, and continues with follow-up maintenance to ensure optimum operating performance of catalysts.