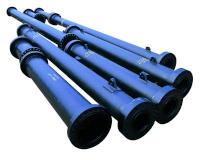 Claxton is extending its large surface riser inventory to meet operators' needs as more heavy-duty jackup rigs enter the North Sea. The company, which already has more than 560 feet of rapid call-off surface riser stock, is adding new joints in the size and pressure required to interface with the blowout preventer (BOP) stacks on the new rigs.
Martin Jolley, vice president sales and commercial, Claxton, said, "Soon there will be six ultra heavy-duty jackups operating alongside the 44 other jackups in the North Sea. The new rigs all require surface risers with 18.3/4" ID and 15 k pressure ratings. We are bolstering our inventory in this area to support our clients.
"Our surface riser supply capability has always been broad; we cover 13.3/5" through to 21.1/4" internal diameter options, which are available in a range of low and high pressure options up to 15 k ratings. Our new 18.3/4" 15 k stock will further strengthen our position as a leading supplier of surface risers for the North Sea and beyond.