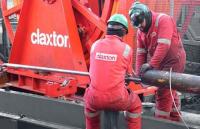 Claxton, an Acteon company, has successfully introduced the latest modular versions of its conductor recovery tower and SABRE™ abrasive cutting system to increase efficiency and flexibility in decommissioning and late life projects.
First developed in 1999, SABRE™ has proven to be an invaluable industry tool and has been successfully used in some of the world's most significant abandonment campaigns. Its abrasive jet exits the tool at transonic speeds – making light work of even composite materials such as cemented casings.
Using a jet of naturally occurring cutting components (garnet, water and air), SABRE™ has a low environmental impact. The system can be deployed from various vessel types or platforms, allowing the simultaneous abrasive cutting of multiple well casings without impacting adjacent infrastructure.
The latest version is fully NORSOK Z-015 compliant, has a reduced system footprint and is modular in design, making it be adaptable to a wider range of applications and deck layouts and thus minimising complexity. Its cutting manipulators suit all standard casing sizes down to 6-5/8 inches; it can operate at pressures of up to 20,000 psi and includes a packer system to improve cutting performance.
The modular approach and philosophy for SABRE™ also influenced new developments for the Claxton conductor recovery tower. The tower can handle and recover tubulars from production tubing to 30-inch casing during well abandonment. Designed for operational speed and reduced rig-up complexity, the system increases efficiency offshore. By having a small, lightweight yet powerful system, Claxton can also extend the operational window of the unit and move from well to well quickly and effectively.
Matt Marcantonio, R&D Manager, Claxton, says, "The concept for both the new SABRE™ deck spread and conductor recovery tower was to improve efficiency and flexibility. The systems are now fully modular and can be adapted to a wide variety of deck layouts and locations. The latest version of SABRE™ was first used in July on an 8m x 8m weather deck footprint on the Horne and Wren Platform in the Southern North Sea - where the abrasive cutting system successfully severed two multi-string wells. The developments are the result of a great deal of work and innovation across the organisation. We are extremely proud to have raised the bar including making the SABRE™ system fully NORSOK compliant to Z-015. This enables us to use SABRE™ on installations on the Norwegian Continental Shelf. It is also already booked out for a number of campaigns through 2016 and 2017."