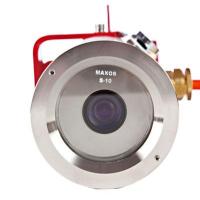 Claxton Engineering Services Ltd, an Acteon company, has launched the latest version for its ATEX and safe-area crane boom cameras. The new system will improve operational safety through substantial upgrades in camera performance and its user interface.
Enhancements to the camera, which is one in a range of best-in-class subsea and surface cameras, include state-of-the-art charge-coupled device (CCD) modules; a best-in-class 324-1 digital zoom (compared with 312-1 digital zoom on previous systems); and a 28× optical zoom lens (compared with a 26× on previous systems).
The new system also offers 3D noise reduction (3D NR) for low noise images in low light environments, image stabilisation, better resolution (now 550 from 450 TVL) and a lower minimum illumination level (now 0.25 rather than 1 lux). The camera retains the auto/manual day to night switching feature for night viewing in monochrome. A joystick control replaces the push button system and enables operators to concentrate on the screen without looking at the controller.