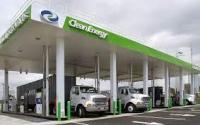 Clean Energy Fuels Corp. has sold Clean Energy's majority interest in its McCommas Bluff biomethane production facility located in Dallas, Texas, to minority interest owner Cambrian Energy for approximately $40.6 million with approximately $3.0 million in additional compensation pending further performance tests of the McCommas facility to be completed in early 2015.
Clean Energy will continue to have the right to market and sell biomethane produced at the facility under its Redeem renewable natural gas (RNG) vehicle fuel brand. Cambrian Energy has been Clean Energy's partner since Clean Energy bought into the McCommas project in August 2008.
'Buying the McCommas biomethane facility allowed Clean Energy to gain a valuable foothold in the renewable natural gas business. We are extremely proud of what we have accomplished at the project over the past six years, quintupling biomethane sales and providing for the long term financial stability that the project had historically lacked.