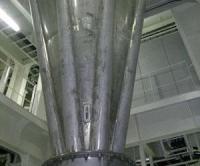 The 120,000 dwt. tankers "Eagle Barents" and "Eagle Bergen," delivered from Samsung Heavy Industries (SHI), are fitted with Class and Flag State approved exhaust gas cleaning systems (EGCS) provided by Clean Marine.
Measurements of exhaust gas emission and washwater criteria are well below the limits required by the IMO, ensuring the vessels' compliancy with the 0,1% sulphur limit in ECAs which has been in force since 1st of January this year. The vessels are also compliant with the stricter US EPA requirements of a pH above 6 in washwater, measured at the outlet.
The vessels' Class Society DNV GL, on behalf of the Bahamian Flag, has confirmed that the EGCS complies with "Scheme B – EGC System Approval, Survey and Certification Using Continuous Monitoring of SOx Emissions" of the IMO Resolution MEPC.184(59), 2009 Guidelines for Exhaust Gas Cleaning Systems.
The approved EGCS will enable the new shuttle tankers to comply with current and future legislation relating to sulphur emissions without switching to more expensive fuels.
The two sisterships are owned by AET Sea Shuttle AS, and will operate on a long-term contract with Statoil in the harsh conditions of the Barents and North Sea. Both vessels will be technically managed by OSM Maritime Group, which specialises in offshore and ship management activities in the Norwegian continental shelf region.