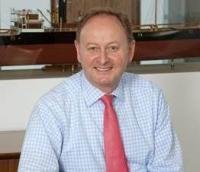 Clive Richardson CEO of V.Group, the global maritime services provider, has been announced a winner of the Finance Monthly CEO Awards 2015.
The annual awards which celebrate the success, innovation and strategic vision of CEOs across a number of sectors and industries, presented this accolade in recognition of Clive's performance in driving V.Group's progress and the company's performance over the past twelve months.
Clive joined V.Group as CEO in 2009 and in addition to delivering significant growth and continuously improving company results; he has driven a number of initiatives. These include directing a successful sale process to the current owners, Omers, an organisational re-structure and a full re-brand which has delivered a unique and contemporary brand architecture befitting the evolution of the company.