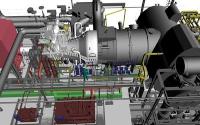 MAN supplies steam-turbine generator set for a state-of-the-art showpiece waste-to-energy plant in the UK.
"When faced with the challenge of building one of the largest waste-to-energy plants in its history to date, our French client – CNIM – contacted us at an early stage. Thanks to an excellent cooperation, MAN supported CNIM in the development of various, optimal solutions for turbine-generator sets and finally won the contract," said Holger Kube, Head of Sales – Steam Turbines – MAN Diesel & Turbo, Oberhausen.
CNIM'S Environment Division, based in Vélizy in south-western Paris, is general contractor (EPC) for the Wilton 11 project. CNIM has valuable experience from previous projects involving MAN Diesel & Turbo steam turbines. "MAN Diesel & Turbo has brought a comprehensive, technical competence to our project and is a partner that we know we can rely on," stated Olivier Serres, Steam Turbine & Condenser Purchaser at CNIM.