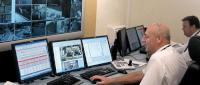 CNL Software, provider of Physical Security Information Management (PSIM) software, has announced it has entered a non-exclusive technology collaboration with underwater security company, Sonardyne International Ltd. The companies are currently working together on a major critical national infrastructure project, integrating Sonardyne's Sentinel intruder detection sonar with the IPSecurityCenter™ PSIM platform. This delivers complete situational awareness through the long-range identification and early classification of approaching underwater threats.
The threat to Critical Infrastructure is not restricted to ports or military assets. Oil, gas and energy installations for example, whether coastal or offshore, can also be vulnerable to attack from above and below the water, which can represent a significant threat to national energy security.
Developed to meet the security requirements of private, commercial, government and naval end users, Sonardyne's Sentinel technology detects, tracks and classifies divers and autonomous underwater vehicles (AUVs) approaching a protected asset and alerts security personnel to the threat. With the ability to identify targets at ranges of up to 1,200 metres, Sentinel has become the maritime security industry's most widely deployed sonar.
CNL Software and its partners have experience of deploying IPSecurityCenter PSIM to some of the largest most demanding critical infrastructure projects in the world including significant oil, gas and energy projects. The integration of Sentinel with IPSecurityCenter was driven by the requirements of a high-profile coastal facilities. The two products are now jointly deployed to provide mission critical levels of security and safeguard customers from unauthorised access from the sea.
Reliably detecting and classifying underwater targets at ranges long enough to provide adequate warning, is a notoriously difficult challenge but one which Sentinel is proven to overcome. It's capable of tracking multiple targets in all environments so is ideal for securing ports and harbours, power stations and offshore installations.
Speaking on the work undertaken to integrate Sentinel with IPSecurityCenter, Nick Swift, Business Manager for Maritime Security at Sonardyne says, "We use the system's Track Fusion capabilities to intelligently interpret multiple tracks then push the data into IPSecurityCenter. This ensures alerts are quickly verified, escalated and resolved by following a common operating procedure."
"Our collaboration with Sonardyne brings together two world-leading technologies and offers industry leading innovative, effective security and safety solutions for existing and new customers concerned about maritime based threats to their infrastructure", adds Adlan Hussain, VP Marketing at CNL Software. "We look forward to working with Sonardyne further to provide robust security solutions for governments, maritime, and critical infrastructure customers across the globe."