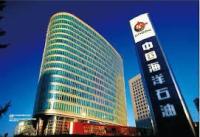 Total net production in the first quarter of 2015 increased 9.4% year over year (YoY) to 118.3 million barrels of oil equivalent (BOE), primarily due to the production contribution from new projects that came on stream in offshore China since 2014.
In the first quarter, the Company made 3 new discoveries. In offshore China and overseas, the Company made 9 and 3 successful appraisal wells, respectively. In offshore China, the new discovery Penglai 20-2 is expected to drive the joint development with the adjacent Penglai 20-3 oil field. After successful appraisals, the Bozhong 34-9 oil and gas structure is expected to be developed into a mid-sized oil and gas field.
Jinzhou 9-3 comprehensive adjustment project and Kenli 10-1 oil field commenced production as scheduled in 2015, while other projects progressed smoothly.
During the period, the unaudited oil and gas sales revenue of the Company were approximately RMB35.54 billion, a decrease of 39.9% YoY, due to the sharp decline in international oil prices. The Company's average realized oil price decreased by 49.0% YoY to US$53.40 per barrel while the average realized gas price increased by 5.5% YoY to US$6.68 per thousand cubic feet.