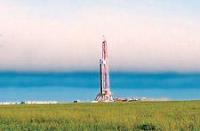 China National Petroleum Corp. (CNPC) says that well Keshen-902 in China's Tarim Oilfield was completed on January, 21 at a depth of 26,371 feet (8,038 meters), 49 feet (15 meters) deeper than Well Keshen-7 (26,322 feet or 8,023 meters) drilled in 2011 at the same structural belt.
The drilling cycle of Well Keshen-902 was 368 days, 380 days shorter than that of Well Keshen-7, with the drilling rate up by 50.8 percent. Well Keshen-902 is an appraisal well allocated at the southwest wing of Keshen-9 structural high in the Kelasu structural belt, which is 2.67 miles (4.3 kilometers) from Well Keshen-7.
It was drilled by the 90002 Drilling Crew of CNPC Chuanqing Drilling Engineering Company Limited by using the domestically developed 29,528 feet (9,000 meters) electrical drilling rig.