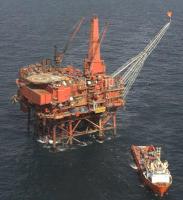 In a major milestone for the UK north sea, oil and natural gas operator CNR International (CNRI) permanently ceased production from its iconic Murchison field at mid-day on Friday, February 28.
The cessation of production heralds the end of a platform considered a giant of the global energy sector – its jacket and topsides are among the largest in the UK Continental Shelf – and which has played a key role in the success of the north sea over the last 30 years.
The field, discovered in July 1975, lies approximately 190km north-east of the Shetland Islands. At the height of its production, peak oil of 150,383 bopd was achieved on December 26, 1982.
Over its life, the Murchison field has produced around 400 million barrels, representing a recovery factor of over 50%.