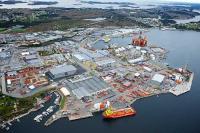 Coast Center Base AS (CCB) has signed a nationwide contract with Statoil for the maintenance of subsea equipment and tools.
The contract, which comes into effect immediately, includes demobilisation, storage maintenance and overhauling of subsea equipment that forms part of Statoil's underwater tools portfolio. CCB also has an option for additional maintenance work in connection with mobilisation and offshore operations.
The maintenance work will be carried out at CCB and NorSea Group-owned bases along the entire Norwegian coast. The plan is to carry out most of the work at CCB (Ågotnes) in Bergen and Vestbase in Kristiansund, but it is also expected that a considerable amount of work will be carried out at Vestbase in Florø, Helgelandbase in Sandnessjøen and Polarbase in Hammerfest.
CCB has previously announced that it will concentrate heavily on further developing CCB as the headquarters for subsea maintenance services. All activities associated with the contract will therefore be managed and coordinated by the company's subsea competence center at Ågotnes, in collaboration with other bases and local subcontractors.
"CCB and Ågotnes are currently undergoing reorganisation, and will in future be the nerve center for Statoil's subsea operations in the North Sea. It is therefore important for us and NorSea Group to further develop quality services within the subsea segment, and this contract forms a sound foundation for our further efforts," says Kurt R. Andreassen, CCB's Chief Executive Officer. "Through the acquisition of Logiteam and the establishment of CCB Subsea, we have shown that we can offer high quality services at competitive prices. We are looking forward to starting to work with suppliers around us."
The contract model helps us not only to ensure consistent high quality and cost-effectiveness for Statoil; it will also contribute to maintaining jobs and creating value for local communities.
"For CCB as a company, it is important to think about local value creation. We want to build industrial clusters that companies close to us can benefit from also in the future," Andreassen continues.
The contract will run for 2 years, with two 3-year options.