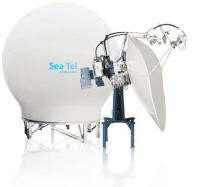 To be shown for the first time at Oilcomm 2014, the new Sea Tel 9711 IMA (Integrated Maritime Antenna) System from Cobham SATCOM introduces new features designed to support satellite service providers to deliver reliable connectivity whilst providing cost-saving flexibility for end-users in the oil & gas sector.
The new Sea Tel 9711 IMA can operate on C-Band Circular or Linear or Ku-band X-pol or Co-pol. Unique to Sea Tel VSAT antennas, switching between VSAT bands is fully automatic and takes just a few seconds, due to sophisticated software and a precision mechanical system on the antenna itself. This means there is virtually no offline time for a vessel or platform's connectivity when switching between VSAT bands and by eliminating the need to manually change feeds and re-balance the antenna, the cost of deploying a technician for the job can be saved.
"Developed at Cobham SATCOM's Concord, California centre of excellence for large and bespoke antenna systems, the Sea Tel 9711 IMA is an innovative system ideal for the high-end networks used on advanced offshore vessels and platforms, where significant requirements for bandwidth and reliable communication have to be met. It is a reliable, flexible solution that forms the platform for intelligent operations within the realms of today's digital oilfield," says Jens Ewerling, Director, Maritime VSAT, Cobham SATCOM.