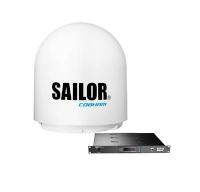 Cobham SATCOM's SAILOR VSAT antennas have been approved for operation on the existing Ku-band as well as the forthcoming THOR 7 Ka-band satellite from Telenor Satellite Broadcasting (TSBc).
THOR 7, TSBc's latest satellite is expected to be launched in Q4, 2014 and is equipped with a Ka-band HTS payload. The SAILOR 800 VSAT and SAILOR 900 VSAT have been approved to support Ku-band services on the existing THOR fleet. Additionally, SAILOR 900 VSAT will be compatible with THOR 7.
Covering the 1°West region, THOR 7's Ka-band capacity is strategically positioned over the main shipping routes in Europe and major oil and gas exploration and production areas including the North Sea.