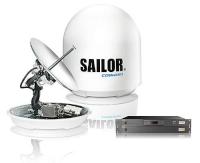 Cobham has won the prestigious Mobile Satellite Users Association's (MSUA) 2016 Top Maritime Mobility Satcom Innovation award, recognising the SAILOR 60 GX antenna system as one of the most innovative maritime VSAT systems ever developed.
The SAILOR 60 GX is a brand new 60 cm-class antenna system for Inmarsat's Ka-band Fleet Xpress – the maritime service offering of the new Global Xpress High Throughput Satellite network. With SAILOR 60 GX, Cobham SATCOM has achieved the perfect balance between size and connectivity performance. Weighing just 37 kg, the SAILOR 60 GX user terminal features one of the lightest Ka-band maritime antennas and boasts class-leading radio performance to ensure a reliable link to the satellite and more availability of communication services across larger sea areas. For maritime vessels with space and/or budget restrictions a new SAILOR 60 GX combined with a SAILOR FleetBroadband system is the perfect hardware platform for Inmarsat's new generation maritime satcom service.
"We're delighted that the MSUA has highlighted the innovative design of the newest addition to the established SAILOR VSAT portfolio. With SAILOR 60 GX, our design engineers have leveraged the spot-beam architecture of Inmarsat Global Xpress, which encourages smaller reflector dish sizes and therefore the potential to reduce the size and weight of on board antennas. Our approach has potential to considerably expand the maritime VSAT market," says Casper Jensen, Vice President for Business Development at Cobham SATCOM.
"SAILOR 60 GX delivers unmatched RF performance for its reflector size, meaning the high bandwidth of the Fleet Xpress service can be enjoyed fully, even on the edges of coverage, despite a smaller antenna. Both SAILOR 60 GX and its stablemate SAILOR 600 VSAT Ka for Telenor's European Thor 7 network enable more vessels and fleets operating on lower communication budgets to harness the power of reliable, flat rate, high bandwidth satellite connectivity on board," adds Jan Kragh Michelsen, VP Maritime Business Development, Cobham SATCOM.