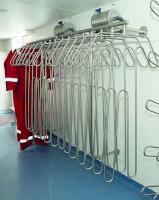 Damen Shipyards Gorinchem successfully built the Bibby WaveMaster 1, their first walk-to-work services operations vessel, and Pronomar helped by creating a healthy working environment on-board by providing drying systems for workwear to the turbine maintenance personnel.
Damen Shipyards Gorinchem is the headquarters of the Damen Shipyards Group and delivers up to 180 vessels each year and has actually built more than 6,000 ships since 1969.
This custom-designed vessel was deployed for UK-based Bibby Marine Services. It is designed to operate with maximum efficiency, while providing a high level of comfort for the crew. "We are always happy to work with Damen, which has a strong maritime heritage and is clearly focused on innovation and on having a good relationship with their suppliers.", says Jaap Baars, Managing Director of Pronomar.