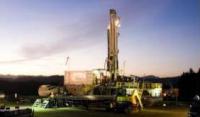 Coal seam gas explorer and developer Comet Ridge Limited provided an operational update on the progress of the Mahalo 7 horizontal surface to in-seam well that was spud on Nov. 6 in the ATP 337P Mahalo Block in Queensland's Bowen Basin, Australia.
After the intermediate hole section was drilled to 1,007 feet (307 meters) and 7 inch intermediate casing was set (with the hole angle just short of horizontal at that point), drilling of the 6.125 inch production hole section was commenced.
This horizontal hole section has now proceeded through approximately 1,181 feet (360 meters) of coal reservoir and the intercept with the Mahalo 6 vertical well occurred yesterday. Drilling conditions have been good and subsequently a further 160 foot (49 meter) section of horizontal wellbore was drilled past the intercept well before the well drilling was terminated at the total measured depth of 2,542 feet (775 meters).