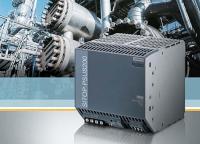 Siemens now offers the PSU8200, a new 24 volt power supply from the modular Sitop product line for single phase networks. The 40 ampere technology power supply has a narrow design of just 145 mm, which saves a lot of space on a standard mounting rail. The high efficiency of up to 93 percent ensures very low energy consumption and minimal heat generation inside the control cabinet. It contributes toward high system availability by supplying up to 3 times the rated current for 25 ms or 1.5 times the rated current for 5 s/min in the event of a short-time overload.
The device has a rugged metal enclosure and a wide-range single-phase input (85 to 132/170 to 264 V AC), with automatic range switchover between 120 V and 230 V AC. Users can employ the device in a wide range of applications in production and processing industries all over the world.
The power supply also features an integrated "24 V OK" signalling contact, an output voltage variable from 24 to 28 volts to compensate for voltage drops, a wide ambient temperature range from -25 to +70° C, as well as UL, CSA, GL, ATEX or IECex international certifications. To help with the design and planning, 2D/3D data, circuit diagram macros, operating instructions and certificates are available free of charge in the Internet.
Product information, such as data sheets and manuals, can be downloaded directly during operation by reading the data matrix code with the Siemens Industry Online Support App. If required, users can increase the reliability of the power supply even further by adding Sitop redundancy, selectivity, buffer and/or DC UPS modules. This makes the device especially suitable for industries with very high demands in terms of reliability and functionality, such as the automotive, food, pharmaceutical and chemical industries.