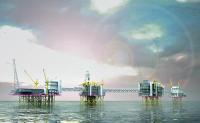 On behalf of the Johan Sverdrup licence partners, Statoil is today awarding a contract to Kværner Verdal for delivery of the riser platform jacket for the Johan Sverdrup field.
Scheduled for delivery in the summer of 2017, the jacket's contract value is close to NOK 2.0 billion.
The contract is an execution of parts of the letter of intent which Statoil entered into with Kværner in 2014 for delivery of two of the four jackets for the Johan Sverdrup field development.
"The Johan Sverdrup field is one of the biggest discoveries on the Norwegian continental shelf (NCS) and will be a building block for Norwegian industry and value creation throughout the field's life."
"Statoil has prepared an ambitious plan for development and operation, with scheduled start-up in 2019. The contract with Kværner Verdal represents a significant step towards realising our high Johan Sverdrup ambitions," says Arne Sigve Nylund, executive vice president for Development and Production Norway in Statoil.
"We are very pleased with the contract we have signed with Kværner. We cooperate closely with the company through the framework agreement. During the engineering period that started last summer Kværner has demonstrated its competitiveness in an international market. Statoil's task is to deliver safe and efficient use of resources, and we are pleased to see that Kværner contributes in this regard through a competitive and future-oriented delivery model," says Margaret Øvrum, executive vice president for Technology, Projects and Drilling in Statoil.
The first phase of the field development consists of four installations and jackets and comprises an accommodation platform, a drilling platform, a riser platform and a processing platform.
On plateau, the field production will constitute 25% of the total NCS production. Statoil's ambition is to recover 70% of the reserves from a 50-year perspective.
This contract award is contingent on an investment decision for the Johan Sverdrup development scheduled for February 2015, and is subject to the Storting's (the Norwegian parliament's) approval of the plan for development and operation (PDO).