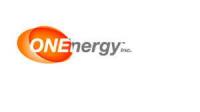 ONEnergy Inc. has received TSX Venture Exchange approval for the previously announced Capital Reorganization (as defined below) and Share Consolidation (as defined below).
As announced at its annual and special meeting of shareholders held on May 19, 2015 shareholders of the Corporation approved, among other matters, resolutions reorganizing the share capital of ONEnergy such that: •re-designating the Corporation's Subordinate Voting Shares ("SV Shares") as common shares of ONEnergy ("Common Shares"); •exchanging each multiple voting share ("MV Share") of ONEnergy for a Common Shares on a one-for-one basis (together with item 1 above, the "Capital Reorganization"); and •consolidating the Common Shares at a ratio of ten old Common Shares for one new Common Share (the "Share Consolidation").
The combined effect of implementation of the Capital Reorganization and the Share Consolidation will be to change the capital structure of the Corporation from the currently issued 128,611,966 SV Shares and 113,209,071 MV Shares to approximately 24,182,104 Common Shares on a post-consolidation basis. No fractional Common Shares will be issued, and no cash will be paid in lieu of fractional post-consolidation Common Shares. The number of post-consolidation Common Shares to be received by a shareholder will be rounded up to the nearest whole Common Share.