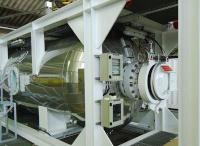 Unique Maritime Group (UMG) has set up the first Hyperbaric Reception Facility (HRF) in the Middle East thus raising the safety level for all divers currently operating in this area to a new level. The purpose built system by Unique Hydra, a division of UMG, will be installed at UMG's facility in the Hamriyah Free Zone, Sharjah.
Major oil companies and dive operators with a view to utilizing the system have already shown considerable interest and the first contract announcement by UMG is expected before the end of the month.
Harry Gandhi, CEO of Unique Maritime Group commented "Bringing one of our state of the art Hydra HRF systems to this region is testimony to our commitment for safety, diver care and providing first class services to the operators in this area. I am very proud that we are the first company to offer this potentially lifesaving facility and congratulate Ian and the team on the job they have done in setting this up in UAE".